Carbon monoxide
Carbon monoxide (CO) is an invisible, odourless, tasteless, and highly toxic gas created when fuels such as natural gas, wood, propane, oil, gasoline, diesel, coal, or kerosene burn without enough oxygen. You cannot detect carbon monoxide on your own which is why it is called the silent killer.
CO build up can happen when fuel-burning appliances are not maintained, a vent is blocked or damaged, or a vehicle is left running in the garage. Exposure to CO can cause symptoms that are similar to the common flu, and can lead to death. Always use and maintain your equipment and appliances correctly.
Signs of carbon monoxide:
Stuffy or stale air.
A pilot light keeps going out.
More condensation than usual on your windows.
Soot build up around a fireplace, chimney, or other fuel-burning equipment.
Fuel-burning equipment has a back-draft (flame flares up when a window or door opens and adds air).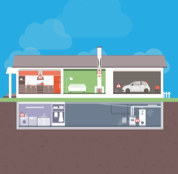 Improperly vented or malfunctioning fuel-powered appliances and equipment may allow carbon monoxide to accumulate to dangerous levels.
---
CO poisoning symptoms
Early CO poisoning symptoms are like the flu but without a fever. If CO poisoning is suspected or the symptoms go away when you leave the building, get everyone to fresh air, and call 911 or your local emergency services.
CO poisoning symptoms, based on exposure (amount inhaled and length of time)

| Exposure level | Symptoms and effects |
| --- | --- |
| Early or low | Light headache, nausea, shortage of breath during moderate physical activity |
| High | Severe headache, dizziness, nausea, vomiting, mental confusion, weakness, vision and hearing impairment, collapse or fainting during physical activity, loss of muscle control, drowsiness |
| Extreme | Unconsciousness, brain damage, death |
---
If your CO alarm goes off
Do not ignore the alarm — it is sounding for a reason.
If anyone has symptoms of CO poisoning:
Evacuate people and pets from the area immediately.
From a safe place, call 911 or your local emergency services immediately.
Do not go back inside until it is safe to do so.
Install a certified CO alarm near bedrooms and on each level of your home. CO alarms will not prevent CO, only alert you to its presence. You should replace the detector on or before the manufacturer's recommended replacement date.
---
Prevent CO build up
Have a licensed heating professional:
Check and clean your heating system routinely.
Ensure all external vents for fuel-burning appliances are correctly installed and secure.
Assess the need for a fresh air intake duct for wood-burning fireplaces or stoves.
You should:
Install and regularly test your CO alarms (know the meaning of the beep patterns).
Replace batteries as needed and check the expiration date.
Keep your indoor and outdoor vents and chimneys clear of debris, snow, and ice.
Keep the area around your furnace clutter-free for proper air circulation.
Regularly check all natural gas appliances have a blue flame (a yellow flame may be a sign of poor combustion, which can produce CO).
Never use portable fuel-burning equipment such as a generator, patio heater, barbecue, or camp stove, inside your home or garage.
Never idle a vehicle or run gas-powered equipment (for example, mower, snow blower, trimmer, generator) in your attached garage, even with the overhead door open.
---