Power line technician
Power line technicians (PLT) construct, maintain, and repair our electrical power transmission and distribution systems. When there is a power disturbance, failure, or storm damage, our PLTs locate and resolve the problem.
Apprenticeship training program
This 4-year fully paid apprenticeship includes competency-based trade schools, formal classes, and on-the-job training. During your paid training, you will be rotated to different work locations. After you complete your training, and successfully pass testing and evaluation, you will receive a journeyperson's certificate.
Apprentices make an hourly rate between $22.34 and $30.90. A journeyperson makes an hourly rate between $38.07 and $45.37.
Learn more about the trade and how to apply. Watch our power line technician presentation.
Qualifications
All of the following qualifications are required for the apprenticeship program. You must:
be a high school graduate with Mathematics 40S (Applied or Pre-Calculus) and English 40
OR
have completed Level 1 Electrical (Construction or Industrial) through an Apprenticeship Manitoba accredited program;
possess and maintain a valid Manitoba Class 5 driver's licence (intermediate or full) and be eligible for upgrade;
be willing to work in all types of weather, work at heights and in confined spaces, have good mechanical aptitude, physical coordination, manual dexterity, and be able to lift heavy objects from a variety of physical positions.
If selected for skills assessment, we test that you have the physical strength, dexterity, and endurance requirements. Prepare for the physical demands of the job – read our Physical Training Guide for Skills Assessment & Trades Orientation (PDF, 4.1 MB).
How to apply
Applications must include the following:
current resumé and cover letter;
high school transcripts1, and any post-secondary school transcripts or training certificates.
If selected, you will write standardized aptitude tests to assess how well your abilities match the job's requirements. If selected for the next step, you will participate in a 2-day pre-employment skills assessment and trade orientation session to demonstrate your job-related skills. A current driver's abstract must be provided at this time.
Note: Register on a desktop computer or laptop – the application will not work on your mobile device.
Not qualified? Get paid to learn
If you don't have these qualifications, you may be eligible for a pre-placement training program to help you upgrade your education and provide trades-related experience.
We typically recruit annually in June and December, but recruitment dates are subject to change.
View current job postings – to check if the role is posted. If it is not posted, set up a job alert to notify you when the application period is open. Use the "Register Now" button to set up your online registration (if you don't have one already set up). Your online profile is not an application. Once you have registered, you must submit an application for the job during the recruitment period.
View instructions for creating a profile and setting up job alerts. Set up the job alert, select "trades" an "power line technician" as your area of interest.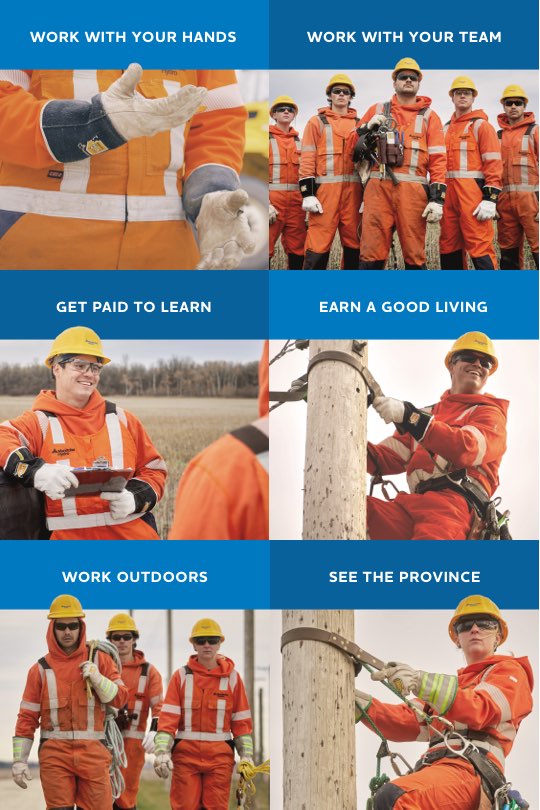 Apprenticeship program benefits
In this training program, you will not accumulate any student or trainee debt – we pay you a bi-weekly salary during the 4-year trade schooling, formal classes, and on-the-job training. You will belong to a union and have a collective agreement.
You must purchase your own set of tools, but we offer a payroll deduction option to help spread out the cost. If your tools break on the job, we replace them at our expense.
We try to keep trainees near their homes, but you will travel throughout Manitoba to experience different types of systems. Trainee rotations are generally 4 to 8 months. Depending on where you live, you may be home for most of your apprenticeship. If working away from home, we pay for accommodations, meals, and mileage.
Safety
Safety remains our top priority in everything we do.
You will receive all necessary personal protective equipment (PPE), including clothing, eyewear, and hardhats, and learn how to use and care for your PPE.
You will receive safety training and learn safe work procedures. We plan all of our electrical work – at heights and at the side of the road – to eliminate hazards or reduce them to safe levels. Before each job, crews participate in job planning and tailboard meetings to discuss the best and safest way to do the work. You also have the right to refuse a task you believe to be unsafe.
---
1 Manitoba Statement of High School Marks (transcripts) is an official provincial record of your high school marks and credits earned.