Environmental, social, and governance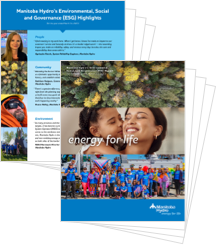 The Environmental, Social, and Governance Report, for the year ending March 31, 2023, is available to view, print, or save.
Covering the fiscal year to March 31, 2023, our ESG report demonstrates how we, as an organization, conduct our relationships and our work with the utmost integrity, care, and respect for our customers and community.
The report shares our employees' achievements and the activities underway to protect our environment and address climate change, further our province's economic and social growth, and support the communities in which we live and work.
Annually sharing these highlights of how we deliver over and above our regulatory requirements helps us better track our progress toward a legacy of doing right by our customers, our province and our world.
You can also read more about how we do that every day in our featured articles.
Highlights 2022—2023
Ethical. Accountable. Transparent.
99% of employees completed ethics training.
For Manitobans, by Manitobans
83% of residential customers reported they are satisfied with Manitoba Hydro's overall service.
93% of customers satisfied with field service.
79% of residential customers are satisfied with Manitoba Hydro's Safety Education.
1,102 loans representing $4.32 million provided in financing to our customers through our Energy Finance Plan.
3,486 loans worth $17.59 million for qualifying upgrades provided to customers under our Home Energy Efficiency Loan.
73,368 line locates performed from requests received from Click Before you Dig MB.
7,383 students across 126 schools reached province-wide with safety messaging.
$101,000 provided in scholarships and bursaries to students across Manitoba.
Over $450,000 contributed in sponsorships of events and activities across Manitoba.
$13,250 donated to 20 employee-championed events and $4,000 to 13 volunteer grants.
Over $1,000,000 in combined employee and corporate payroll donations.
Care, responsibility and protection for the environment
Over 600 employees participated in the national Commuter Challenge, winning Manitoba Hydro a gold in the 3000+ employees category.
Our total greenhouse gas (GHG) emissions: 0.10 megatonnes (less than 0.12 if national electrical generation).
8 megatonnes of GHG emissions avoided through net exports.
65 metric tons of paper recycled through our Official Records Destruction, Confidential Shredding and T.R.I.M programs.
Over 84.33 metric tons of industrial non-hazardous materials were recycled.
Over 64,000 litres of waste oil was collected and recycled.