Manitoba–Minnesota Transmission Project
The proposed Manitoba–Minnesota Transmission Project will strengthen the overall reliability of Manitoba's electricity supply, allow Manitoba Hydro to fulfill current export sales agreements, and increase access to markets in the United States, supporting the export sales that keep rates lower for Manitobans. Manitoba Hydro requires federal and provincial approval of the project.
Status
National Energy Board
On December 21, 2017, the National Energy Board issued a Notice of Public Hearing indicating they would hold a public hearing for the Manitoba–Minnesota Transmission Project and would conduct an environmental assessment pursuant to the Canadian Environmental Assessment Act, 2012.
The National Energy Board Public Hearing concluded on June 22, 2018. Information from the Public Hearing, including transcripts, is available on the National Energy Board's website. The National Energy Board has completed and released their Reasons for Decision recommending to the Governor in Council that a certificate should be issued for the Project.
Manitoba Clean Environment Commission
The Clean Environment Commission has completed their report and submitted it to the Minister of Sustainable Development. The Clean Environment Commission Hearing for the provincial process concluded in June 2017 and Manitoba Hydro is awaiting a licensing decision.
Environmental Impact Statement (EIS)
The Environmental Impact Statement for the Manitoba–Minnesota Transmission Project was submitted for regulatory review in September 2015. A summary document has been developed to outline the findings of the EIS.
Benefits
Enhanced reliability
The project will double our ability to import electricity from the United States, helping to ensure a reliable supply of energy is available to our customers in the event of emergencies such as prolonged droughts or unforeseen equipment failures.
---
Increased exports
The project will increase the amount of electricity we can sell into the United States market, at a time when new generating stations are being built in this province, helping to continue the profitable export sales that keep electricity rates lower for our Manitoba customers.
---
Lower rates
Selling surplus electricity outside of Manitoba earns revenue that helps to offset the revenue we need to collect from our customers in Manitoba. This means electricity rates in this province are much lower than they would be otherwise.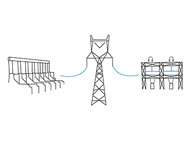 Project details
The Manitoba–Minnesota Transmission Project includes:
Construction of a 500,000-volt AC transmission line from the Winnipeg area to the U.S. border in southeastern Manitoba where it will connect to the Great Northern Transmission Line to be constructed by Minnesota Power.
Upgrades to associated electrical stations at Dorsey, Riel and Glenboro.
View these materials in our document library:
draft environmental protection and management plans;
Environmental Impact Statement;
technical data reports;
project handouts;
localized maps;
newsletters;
GIS files.
Sign up to be emailed when there are upcoming events or new project materials available on our website: